Aylmer Rod & Gun Club: News...

Initiation to Hunting Course for Youth: Volunteers of the Aylmer Rod & Gun Club (ARGC) once again sponsored this 2-day course, part of the Initiation to Hunting Program of the Quebec Federation of Anglers & Hunters, for youth between 12 & 18 years of age. It was held on Saturday & Sunday, April 13 & 14, 2019, at the Andre Touchette Centre. We covered the Canadian Firearms Safety Course, which allows you to apply for a Possession and Acquisition License (PAL), as well as the Quebec Hunter Safety Course, which allows you to get your Quebec Hunter's Certificate and to buy hunting licenses. 

The objective of this exciting program is to introduce young people to safe, ethical hunting and to effective habitat and wildlife conservation.

Initiation to Fishing Course: The Aylmer Rod & Gun Club held its annual fishing course on Sunday, June 9, 2019, at the Aylmer Marina. The objective is to introduce youngsters from 6-17 years of age to fishing. Registration opened at 8:30 am. followed by instruction from the experts! Youngsters did a little fishing afterward too. Each participant receives a free fishing permit valid to the age of 18 plus a free rod & reel outfit. This project is part of a province-wide effort to involve more youth in fishing:  Fête de la pêche. 

Initiation to fishing class at Aylmer Marina.

Bob Valcov and fishing partner Melania.

Martin Bougie & Rod Carreau delivering Initiation to Hunting Course.

Quebec Gun Registry: There is a Facebook group for those of us fighting to ensure that Quebec doesn't end up with a Long Gun Registry. Let's ensure that the newly-elected Quebec provincial government does not follow through with the gun control plans of the former separatist Parti Quebecois government. Join the conversation. Click on the banner at right to go to this Facebook group.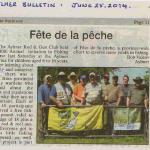 Article on a project introducing women to hunting that involved a trip to France, that we sponsored. (The Equity)

Double click here to add text.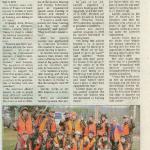 Local hunter-conservationist Bob Valcov instructs prospective beekeepers at Heritage College: Aylmer Bulletin.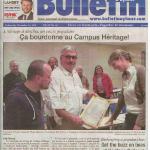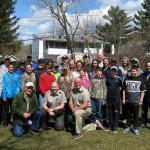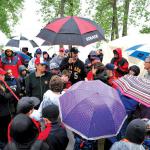 Click here image to view Aylmer Bulletin coverage of our 2016 Introduction to Fishing course for youth.
The 2021 ARGC Henri Lacasse Memorial Youth Hunting Award is shared by Sebastian George and Jacob Mason both of whom bagged great whitetail deer. Congratulations gentlemen!   

YOUTH FIREARMS SAFETY: The Aylmer Rod & Gun Club completed yet another Canadian Firearms Safety Course (CFSC) for youth (12-17 yrs.) on Saturday, April 15, (pictured) & another on Sunday in French. Educating people on firearms safety is one of the missions of our club. 

After a day of instruction, each student completes a written test & practical examination with qualified instructors. It takes 80% to pass. The RCMP mails the results to each student & those who pass may apply for a Firearms Possession & Acquisition License (PAL) at the age of 18.  

Most of the youngsters are from families where hunting is a way of life. We also have sport shooters, bi-athletes & those who plan to pursue a career in law enforcement or the military. Thank you to the volunteers & congratulations to all participants!